2019 Schedule Release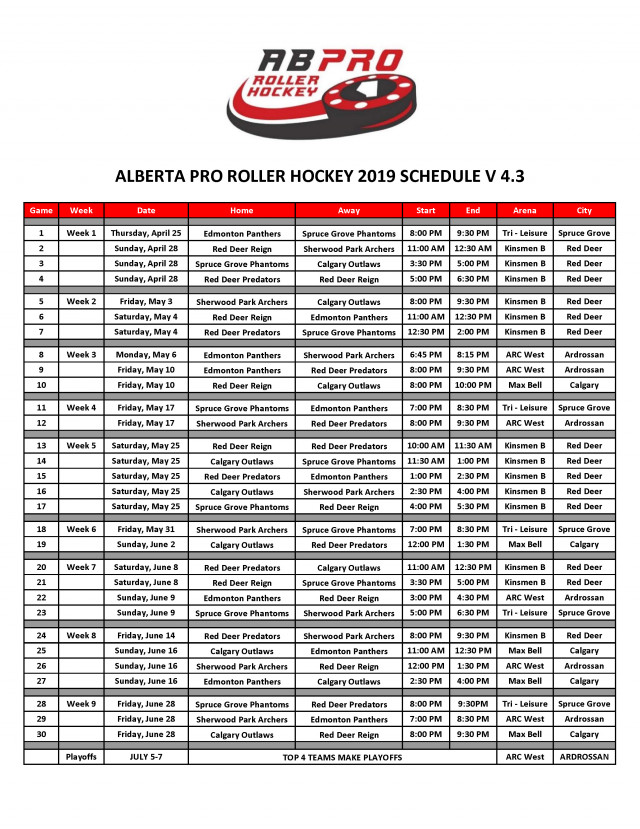 Sunday March 24, 2019
With the second season of the Alberta Pro Roller Hockey League upon us, many things need to happen before the games get under way. Tryouts for four of the clubs will be taking place over the next 3 weeks, where new players will get a taste of what its like to play in this league. Then shortly after that the exhibition schedule will start where teams get an opportunity to get their new players some game action. 2019 will see the addition of the 6th franchise as the Red Deer Predators will enter the league. This will help on several different levels as there is now a 3rd team in the South Conference alleviating travel strain for those teams. As well as balancing the schedule for the entire league, allowing teams to play everyone twice and having no more than 4 travel games. This is shaping up to be a great second season and we can hardly wait to get going on the opening night April 25th in Spruce Grove.
Did you like this article? Share it!
x
Term of use Shark Media & Sport
The content of this site is private and purely informative. The rights of a visitor to this site cannot, therefore, be derived from the content of this website. This website is operated by and was created by SHARK MEDIA & SPORT. The data contained within this website are the intellectual property of and are copyright-protected. The data herein cannot be copied or reproduced without the prior consent of or SHARK MEDIA & SPORT, other than in contexts requiring on-line searches. However, you may print out entire pages of this site for personal use. For further information about the use of this site, please communicate with SHARK MEDIA & SPORT.